Our
pj
has gibbed an award to me. I am honored, and I apologize for not acknowledging dis heah kick-a** award. I cannot beat her awe-inspiring acceptance speech, so I won't.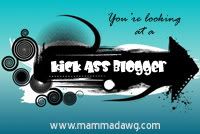 Dis heah da roolz:
1) Choose five other bloggers that you feel are "Kick Ass Bloggers"
okay
2) Let them know that they have received an award.
do I have to?
3) Link back to both the person who awarded you and also to http://www.mammadawg.com/
okay
4) Visit the
Kick Ass Bloggers HQ
to sign Mr. Linky and leave a comment.
yes, ma'am
I choozes (Gawd, I hates dis paht!):DA NEW (to me) KIDS:
James
,
Leonardo Ricardo
,
Cany
,
it's Margaret
,
Counterlight
and (I'm breaking the rules) I'm going with more than five:
Dennis
,
Caminante
, and
Matty Boy
Thank GAWD dats outta da way!